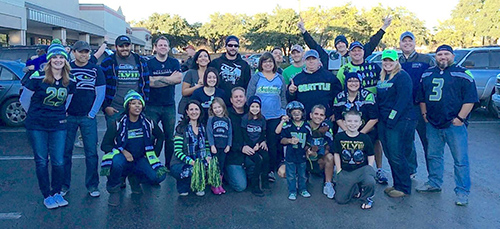 "I've learned that people will forget what you said, people will forget what you did, but people will never forget how you made them feel." -Maya Angelou
---
The Booster Club supports several charitable organizations:
Rainbow Room
The Rainbow Room is a local resource center in support of Child Protective Services (CPS) offices where caseworkers can gather new and essential items needed for the kids in their caseload whose lives are in crisis.
The Rainbow Room provides necessary items like car seats, clothing and diapers to extended family members when they find themselves unexpectedly parenting small children.
Austin, Texas 12s support The Rainbow Room year-round with donations and supply drives.
When: Year Round
What: Donation and supply drives on certain game days.
The Austin, Texas 12s Sea Hawkers are participating in Holiday Wishes, a Christmas gift donation program benefitting the Rainbow Room. As the holiday season approaches, we will be sponsoring toy donations on game days as well as using club membership and drawing proceeds to purchase toys for children in foster care in the Austin area.
Booster Club members also have the opportunity to join fellow club members in wrapping gifts in support of the Holiday Wishes program.
When: Holiday Season
What: Toy drives and volunteer gift wrapping as a group.
---
"It isn't about the words you say. It's about the energetic message you send." -Pete Carroll