The official Seattle Seahawks booster club in Austin now has two watch party locations in Austin. All games are televised with sound. Come join fellow 12s for a great time cheering on the Seattle Seahawks in Austin. All fans are welcome! (Booster club membership is optional and is not necessary to join the party.)
The BIG Party Happens at the North Austin Seattle Seahawks Watch Party Location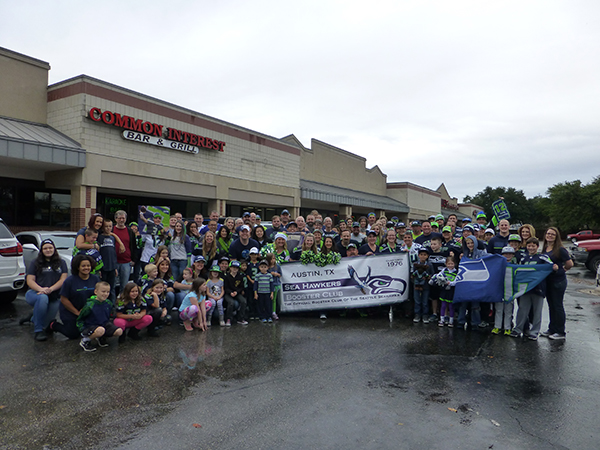 Where: Common Interest, 8440 Burnet Road, Austin, Texas
Details: The north location has over 80 fans at every game. The bar is decorated year-round with Seahawks pride and fans are encouraged to make noise, 12s style! There are drawings for fun Seahawks prizes at every game, and a menu of food and drinks just for Seahawks fans. You won't want to miss this awesome party! Get decked out in your finest Seahawks attire and come ready to get loud and have fun with fellow fans.
Common Interest is a family-friendly venue. All ages are welcome. They have beer, wine, mixed drinks and a full bar menu. All children must sit at tables with their parents and be supervised.
Brand New for 2017 – South Austin Seattle Seahawks Watch Party
Where: Stouthaus Coffee Pub, 4715 South Lamar Blvd., Austin, Texas
Details: The Austin, Texas 12s Sea Hawkers Booster Club is proud to announce a brand-new venue for the 2016 season. Stouthaus Coffee Pub has a large selection of coffeehouse drinks and a full range of taps, all featuring local beers. They also have wine, non-alcoholic drinks, and light bites. Cane Rosso  is next door, fans are welcome to order pizza and enjoy during the game. Stouthaus is a family-friendly venue with a dog-friendly patio (no TVs on the patio).